Have you ever had a problem with a product or service, only to find yourself stuck in an endless cycle of frustrating phone calls and unhelpful emails? Sounds familiar, doesn't it? It's a scenario that many of us can relate to, and one that highlights the importance of proactive customer support.
Now imagine another scenario where you experienced the delight of a company anticipating your needs before you even realized you had a problem? It's a rare occurrence in today's reactive customer service landscape, but it's one that can make all the difference in building loyal customers – and this is proactive customer support.
What is Proactive Customer Support?
Proactive customer service (or proactive support) means anticipating the customer's needs and addressing any potential issues before they even arise. It's about being one step ahead, rather than just reacting to problems after they occur. And it's not just a nice-to-have strategy – it can have a significant impact on customer loyalty and satisfaction.
The course of action that businesses usually take is addressing the issues after they have taken place. But due to immense competition, and the advancement of technology and retail experience, the customer expectations have evolved. They are no longer satisfied with the fact that you solved the problem, rather they take into account the occurrence of the issue, reaching out to customer support, long wait-time, etc. Such experiences cost businesses their clients.
Hence the ultimate solution for them to boost their customer satisfaction and loyalty is through "Proactive Customer Support".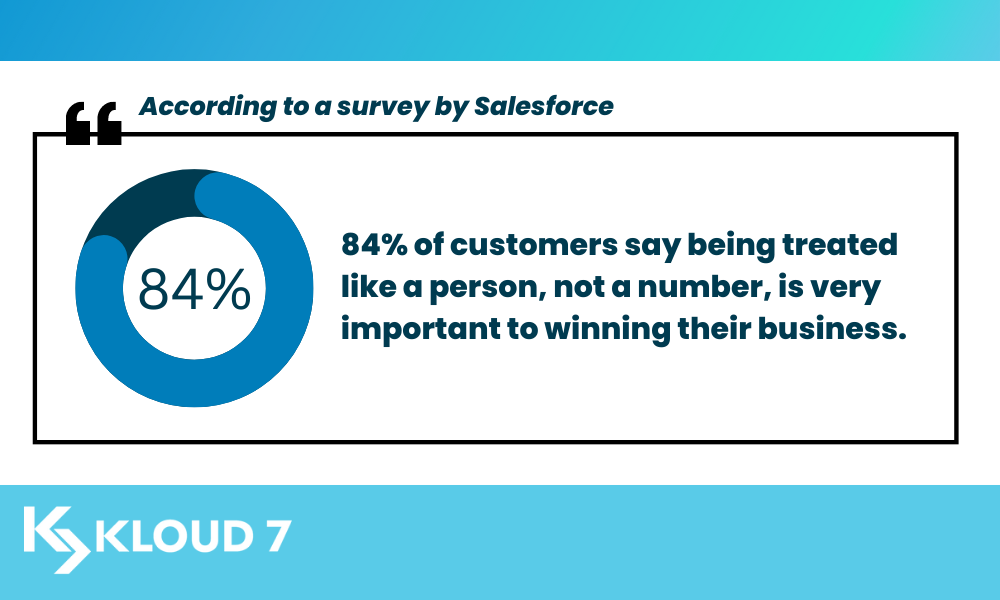 According to a survey by Salesforce, 84% of customers say being treated like a person, not a number, is very important to winning their business.
And proactive customer service is one way to do just that. When a company goes above and beyond to anticipate their needs, customers feel valued and appreciated.
In fact, the same survey found that 74% of all customers say the experience a company provides is as important as its products/services.
Reactive vs. Proactive Support
The difference between proactive and reactive customer support is determined by who initiates the contact request. Reactive service occurs when the customer first contacts the business, whereas proactive service occurs when the company contacts the customer first.
In a proactive approach, businesses initiate the first contact and plan their messaging in advance, which actively minimizes the number of support tickets. On the other hand, in a reactive approach, customers initiate the first contact and the responses depend on the specific issue, which can be time-sensitive and create a point of friction.
Benefits of Proactive Customer Support
The modern innovative and customer-focused businesses have significantly impacted customer service all around the globe. A combination of disruptive technologies, rising competition, current economic experience, and the 'always on' culture influenced by the digital media has collectively heightened the customer expectations. Gartner predicts that by 2025, proactive customer service teams will outnumber reactive customer service interactions.
Hence, the businesses around the globe are forced to reconsider their traditional approach toward customer service to stand out among the competition and grab the market share. It's high time to embrace the power of proactive customer support. By identifying and addressing potential issues before they even occur, proactive support can create a positive customer experience that leads to increased loyalty and satisfaction.
But don't just take our word for it. Here are a few of the benefits of proactive customer support:
1. Increased Customer Satisfaction
A study by Deloitte found that companies that prioritize customer experience and invest in proactive support see a 10-15% increase in customer satisfaction.
2. Higher Customer Retention Rates
According to a study by Forrester, companies that invest in proactive support see a 33% increase in retention rates.
3. Improved Efficiency
By addressing potential issues before they even occur, proactive support can reduce the number of incoming support requests and streamline the support process.
4. Competitive Advantage
In a crowded market, proactive support can help differentiate your company from competitors and create a memorable, positive customer experience.
How to Deliver Proactive Customer Support to Boost Customer Satisfaction
1. Solve Common Problems
Research has revealed that a vast majority of customers choose to remain silent instead of voicing their complaints or problems. This indicates that there is a significant amount of valuable feedback that companies are missing out on. By proactively identifying and resolving issues, businesses can not only assist those who have voiced their concerns but also cater to the needs of the larger customer base who remain silent.
2. Follow up with Customers
Businesses should regularly monitor customer feedback across channels to ensure they are meeting customer needs and expectations. This feedback can be used to improve products, services, and support experiences, ultimately leading to increased customer satisfaction.
3. Offer Personalized Interactions
Personalization is also a critical element of proactive customer service. By using customer data to tailor support experiences to each individual's unique needs and preferences, businesses can provide a more personalized and engaging customer experience. This can include anything from personalized product recommendations to targeted messaging based on customer behavior.
4. Support Customers with Timely Information
Proactively offering assistance to customers by providing relevant information or guiding them through issues is an effective way of demonstrating support.
For instance, a clothing store can anticipate that customers might have difficulty choosing the right size when shopping online. To address this issue proactively, the store can provide a detailed size chart, including measurements of each garment and advice on how to measure oneself accurately. The store can also offer a size guide video or blog post on their website to provide further clarity on the sizing process. By doing so, customers can make informed decisions and feel confident in their purchases without needing to reach out for help.
5. Use Data to Anticipate Customer Needs
Analyze customer data and feedback to anticipate their needs and offer solutions in advance. For example, an e-commerce company can track a customer's browsing history and recommend similar products to them before they even search for it.
6. Provide Customers with a Knowledge Base 
This entails developing educational content and resources to assist customers in better understanding products or services and addressing common questions or concerns. Providing resources like FAQs, tutorials, and user guides can help customers solve problems on their own, reducing the need for support requests.
Businesses can create tutorials, how-to guides, and other educational materials to help customers better understand their products or services. This can go a long way in preventing confusion and frustration, and can ultimately lead to increased customer loyalty.
7. Be Available Across Multiple Channels
Customers have different preferences when it comes to communication, and businesses need to be available on the channels they prefer. Whether it's through phone, email, live chat, or social media, being available across multiple channels ensures that customers can reach out for support in the way that works best for them.
8. Implement a Proactive Chat 
By using chatbots or automated messaging, businesses can proactively reach out to customers with helpful tips, targeted offers, or proactive support. This can be particularly useful for answering common questions or concerns before customers even have to ask.
For example, a banking company can send alerts to customers when they are about to reach their credit limit.
9. Balance Efficiency with a Personal Touch
While IVAs are effective in addressing basic inquiries, certain customer support requests necessitate human intervention. When forwarding a query to a live agent, it is crucial to ensure that your clients receive prompt and efficient assistance.
Skill-based routing is a technique for matching a customer's requirements with an experienced representative. By utilizing context, such as the customer's current page, and analysis, such as scanning the conversation for key terms, you can direct the customer to the appropriate agent. This ensures that everyone is engaged in more meaningful interactions, with reduced idle time and faster resolution times.
10. Invest in Technology
Utilizing customer service technologies such as CRM systems or customer feedback software can help in providing better customer support experiences. For example, a telecommunications company can use a CRM system to keep track of customer interactions and resolve their issues quickly.
Customer Loyalty and Satisfaction
Positive brand experiences are the foundation of customer loyalty and satisfaction. In fact, a study by PwC found that 73% of consumers say that customer experience is an important factor in their purchasing decisions.
So, what exactly is a positive brand experience? It's the result of a company's commitment to delivering excellent customer service at every touchpoint. From the moment a customer discovers a brand to the post-purchase follow-up, every interaction should be personalized, seamless, and helpful.
When customers have a positive experience with a brand, they are more likely to become loyal, repeat customers. They also become brand advocates, recommending the company to their friends and family. And this loyalty pays off – a study by Bain & Company found that increasing customer retention rates by just 5% can lead to an increase in profits of up to 95%.
But creating a positive brand experience isn't just about making customers happy. It's also about standing out in a crowded market. With so many options available, customers are more likely to choose a brand that they know and trust. And trust is built through consistent, high-quality customer service.
So, how can companies create positive brand experiences that lead to customer loyalty and satisfaction? Here are a few key strategies to consider:
Personalize interactions: Use customer data to tailor your messaging and interactions to each individual customer. This can help build a stronger connection and make customers feel valued.
Be responsive: Respond to customer inquiries and issues in a timely manner, and make sure they feel heard and understood.
Provide helpful resources: Offer resources like tutorials, FAQs, and user guides to help customers make the most of your products or services.
Go above and beyond: Look for opportunities to exceed customer expectations, whether it's through a surprise discount or a personalized thank-you note.
By prioritizing the customer experience and creating positive brand experiences, companies can build strong relationships with their customers that lead to long-term loyalty and satisfaction.
Proactive Customer Service in Action
We at Kloud 7 understand that the standard of customer expectations has grown significantly. According to a recent survey by HubSpot, 93% of the customer services team agree that customer expectations are higher than ever.
Hence, our customer support agents follow a proactive approach to providing customer service. Being at the forefront of technology, our agents use a number of tools to monitor different parameters. Such as weather quality, network performance, internet and call quality, etc., to make sure our customers don't face any issues while using our services. 
This proactive monitoring helps them anticipate the issues. They then plan and prepare to mitigate the problems before they even occur.
Not only this, but our proactive agents keep a check on the trends and patterns of all activities, past experiences with the technology, etc., to ensure a steady flow of services. If they see any problem, they reach out to the customer before the customer even finds out about it. We also conduct regular security checks and maintenance activities to keep up with the quality of our services and their consistent provision.
By keeping a lookout for the time of the year, weather conditions, etc., our team devises plans accordingly to avoid interruptions in case of a natural calamity.
Kloud 7's customer service is available 24/7/365 for customers to reach out via calls, emails, or the LiveChat feature on our website.