The Best Business Technology Services in the

Market
Keep up with the pace of an ever-evolving technological environment and the demands of a growing business with our Managed IT services, tailored specifically to your needs.
Explore our features
Get a quote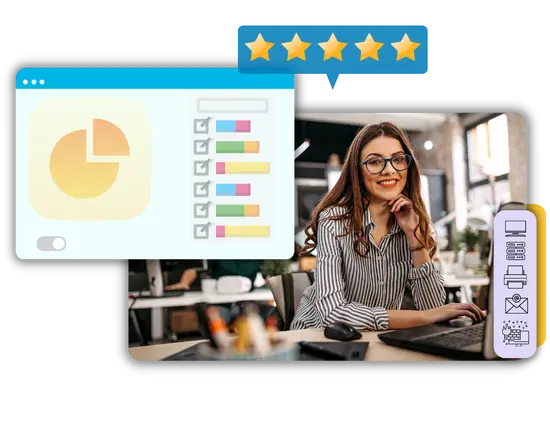 Optimize

Your Business With Managed IT Services
Business operations and efficiency depend heavily on reliable IT services, and with new technologies emerging every other day, it can be challenging to keep up. This is why we provide a range of services to modernize your IT and increase your business efficiency, all while cutting down on costs.
IT services, however, encompass a wide range of solutions that are essential for businesses to stay competitive. These include infrastructure, security, cloud, software, communication, analytics, and other technological services, all provided by a single, trusted provider.
Narrow your Business' Focus
Data Compliance & Auditing
Our portfolio of managed services includes everything you can possibly need to take your business to the next level.
As we manage your email on-premise, at our facility, or in the cloud, you can cut back on operational costs while elevating your level of service.
From installing hardware to daily backups and management, we will help you reduce risk and keep up with all compliances.
Stress-free server connection without worrying about administration. We will handle the on-site installation and also the provision of virtual software.
Focus on your projects. We'll take care of the configuration and updates.
Secure your printers, add a layer of protection to your data, and free up your IT department.
Bare-metal, real-time, and disk-level backup to reduce downtime and shorten recovery time.
Unify software projects, automate simple tasks, and manage project collaboration.
Get DNS Filtering, VLAN Management, Wifi Management, and other automated network support services.